The space flight launched by the space company named Virgin Galactic took a fly on the 11th of July, 2021. With that did the dreams of Richard Branson, Sirisha Bandla, and many other space travel lovers take a flight into the sky.
Virgin Galactic Spaceflight
The Virgin Galactic Spaceflight is owned by Richard Branson. The dreams of Richard Branson also took a step forward with the launch of the flight on 11th July 2021. The British billionaire, Richard Branson took his first steps towards his dream of making space travel possible for generations. Branson established the Virgin Galactic spaceflight company in the year 2004. Virgin Galactic launched founder Richard Branson along with three other crew members on the company's fourth spaceflight test to date.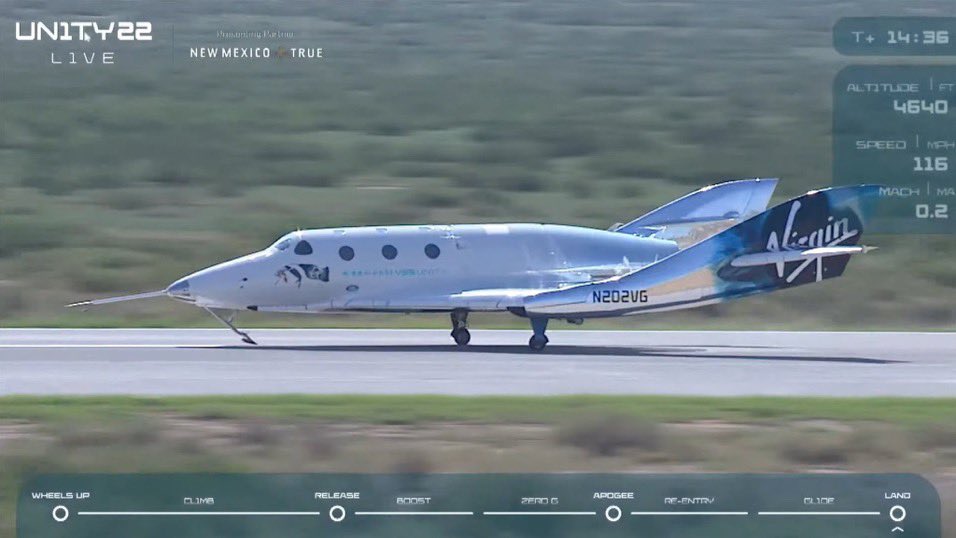 Branson, in remarks from his Virgin Galactic flight on Sunday, said the spaceflight was the "complete experience of a lifetime" shortly after the spacecraft successfully took off over New Mexico.
Branson rejoiced in celebrating the success of his crew and the company stating how as a child he would look up at the sky and now as an adult he is looking down at our beautiful Earth. Which very clearly depicts Branson's journey from dreaming about space and stars to now being in space surrounded by stars. His wait for 17 years after the establishment of the company, is now turning out to be his dream come true as spaceflight makes its way out of the Earth's orbit and goes into space. Branson's company has said to also gain lots of revenue after the success of space travel as it's a publicly traded company.
Who is Sirisha Bandla?
Sirisha Bandla is the third woman of Indian origin to fly into space after Kalpana Chawla and Sunita Williams. With roots in Guntur, Andhra Pradesh, Sirisha is currently the Vice President of Government Affairs and Research Operations at Branson's Virgin Galactic.
Sirisha is a 33-year-old aeronautical engineer and an astronaut. She acquired her Bachelors in Science from Purdue University and her Masters in Business Administration from George Washington University. As a child, Sirisha has been really ambitious about exploring the sky, the moon, and the stars, depicting great interest in space travel. After living in India for several years, Sirisha joined her parents living in Houston, United States. Sirisha continued her studies in the United States.
Sirish has achieved a good amount of experience in the field of aeronautics and management as she was Associate Director at Commerical Spaceflight Federation for three years, worked at Virgin Orbit as i) Director of Washington Operations, ii) Bussiness Development and Government Affairs Manager for 3 years and 4 months.
Richard Branson, Sirisha, and pilots David Mackay and Michael Masucci, Virgin Galactic's chief astronaut instructor Beth Moses, and lead operations engineer Colin Bennett — traveled to the edge of space before returning to earth aboard the Galactic Unity 22 spacecraft.
Virgin Galactic Spaceship Company
Virgin Galactic is the world's first commercial spaceline and vertically integrated aerospace company. The Spaceship Company(its sister concern) is going to develop a new generation of space vehicles to open space for everyone.
On Sunday, 11 July 2021, the flight took off over New Mexico from the American runaway, completing the fourth spaceflight by Virgin Galactic to date. Spaceflight will be traveling three times faster than the speed of sound to reach the edge of space. The spaceflight was named the SpaceShipTwo VSS Unity.
Virgin spaceflight is also aiming to be all set and open up to commercial service by 2022. The testing and installing process of the system is now being carried out by the various crew members of the company.
Conclusion
The success of space travel depicts the advancement of space travel and lays down possibilities for citizens other than astronauts to travel into space. It can also make transport to space easier and more accessible to the public. This is definitely a landmark event in the history of space travel.
ALSO READ:- Top Young Fashion Models in India