From the heartfelt drama of The Mill on Hulu to the thrilling horror of Chucky Season 3, we've got something for everyone this October. So sit back, relax, and get ready for some amazing entertainment recommendations!
The Mill – 9 October
Release Date: 9 October 2023
Streaming: Hulu
Star Cast: Connor Dempsey, Kerrie Hayes and Holly Lucas
Looking for a historical drama with an engaging storyline? Look no further than The Mill on Hulu. Set in 1830s northern England, the show follows the workers at a cotton mill and their struggles against poverty, injustice, and abuse of power.
The ensemble cast features standouts like Kerrie Hayes and Matthew McNulty, who bring depth and nuance to their roles. Meanwhile, director James Hawes adds an atmospheric touch to the proceedings with his moody cinematography and framing.
But what truly makes The Mill on Hulu stand out are its powerful themes and motifs. The show grapples with timely issues like classism, sexism, and worker exploitation, making it both a thoughtful and entertaining watch. So brush up on your British history and give this gem a stream!
Undead Unluck – 6 October
Release Date: 6 October 2023
Streaming: Hulu
Star Cast: Moe Kahara, Kenji Nomura and Yuichi Nakamura
This series follows the story of a boy named Fuuko Izumo, who is cursed with immortality. The story explores the concept of friendship and sacrifice in a unique way. The two main characters, Fuuko and Andy, embark on a journey to lift the curse while fighting off various villains. The plot twists make the series unpredictable, making it impossible to know what's coming next. Definitely one to keep on your watchlist.
Monster High 2 – 6 October
Release Date: 6 October 2023
Streaming: Nickelodeon and Paramount+.
Star Cast: Ceci Balagot, Miia Harris and Joshua Bassett
If you're a fan of Monster High, the second installment promises to be just as freaky and fabulous as the first. The background of the story is a high school for the children of legendary monsters, where they face the usual teenage drama alongside supernatural challenges. New characters, including the son of Dracula and the daughter of the Werewolf, add to the ghoulish fun. The plot synopsis is still under wraps, so you'll have to watch to find out what new horrors await the students at Monster High!
Chucky Season 3
Release Date: 4 October 2023
Streaming: Peacock
Star Cast: Zackary Arthur, Björgvin Arnarson, and Alyvia Alyn Lind
You can run but you can't hide from the creepy doll who's a force of evil. The classic horror franchise "Chucky" is reborn in a whole new way as a TV series, bringing nearly four decades of entertaining terror to this latest installment. The TV series introduces a new generation of viewers to Chucky's lore, while paying homage to its classic slasher roots.
The cast includes familiar faces like Brad Dourif, who reprises his role as the voice of Chucky. Franchise veteran Jennifer Tilly also returns, along with series newcomers Zackary Arthur and Alyvia Alyn Lind. But don't get too attached to any character, since no one is safe when Chucky is involved.
The third season picks up where the last season left off, with teenage bully Jake Webber and his friends having to face the consequences of their actions. Meanwhile, Chucky's diabolical plans are only just getting started, and the characters find themselves in a twisted game of cat and mouse with the murderous doll.
If you're a fan of the horror genre, Chucky Season 3 is a must-watch. And even if you're not, who can resist being entertained by a killer doll running amok?
Lupin Part 3
Release Date: 5 October 2023
Streaming: Netflix
Star Cast: Ludivine Sagnier, Etan Simon and Antoine Gouy
Lupin Part 3 is a must-watch series for those who love action and suspense. The series features a captivating storyline that keeps the audience on the edge of their seats. The Synopsis of the series revolves around Assane Diop, a highly skilled thief, who in a bid to clear his father's name, sets out to rob a necklace worn by Marie-Antoinette. As you can imagine, this is no easy task, and his actions lead to a series of events that have fatal consequences.
The Main Cast of the series includes Omar Sy, who plays the lead role of Assane Diop, with other talented actors such as Vincent Londez, Ludivine Sagnier, and Hervé Pierre among others, all playing major roles in bringing the story to life.
The Themes explored in the series include justice, betrayal, and loyalty, and the series does an excellent job of portraying these themes through its characters and storyline.
Beckham
Release Date: 4 October 2023
Streaming: Netflix
David Beckham makes his debut as an actor in this heartwarming film. The charming plot shows us what happens when a father and son swap lives for the day. Despite being a family movie and Beckham's first acting foray, the film has some surprisingly poignant moments.
Shot primarily in London and Paris, Beckham's production values are top-notch. The dynamic cityscapes and stunning architecture at both locations make for a perfect backdrop. Joining Beckham in the cast are seasoned actors such as Tim Hodgekinson and Dominic Parlante. Overall, it's a fun film with an excellent message.
Fair Play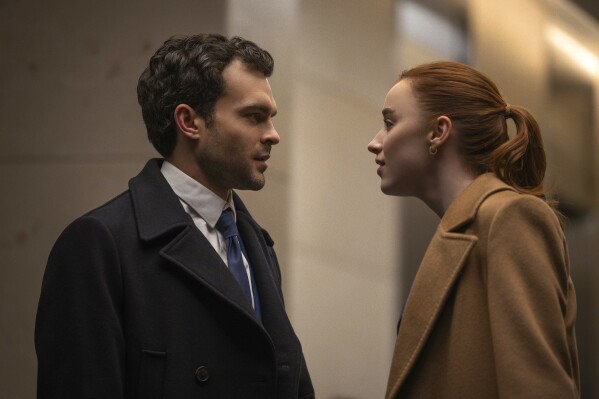 Release Date: 6 October 2023
Streaming: Netflix
Star Cast: Phoebe Dynevor, Alden Ehrenreich and Eddie Marsan
If you're in the mood for a heartwarming sports film, look no further than Fair Play. The plot follows a group of underdog athletes as they strive to make a name for themselves in their respective sports. The characters are all relatable and likable, and their determination is inspiring.
The cinematography in Fair Play is also noteworthy. The film beautifully captures the raw emotion of each scene, and the sports sequences are particularly thrilling. Overall, Fair Play is a must-watch for anyone who loves a good sports movie with heart and soul.
Ballerina
Release Date: 6 October 2023
Streaming: Netflix
Star Cast: Jeon Jong-seo, and Kim Ji-hoon
This movie revolves around a young girl, Felicie, who dreams of becoming a ballerina in Paris. Her journey begins when she and her best friend Victor manage to sneak out of the orphanage to pursue their dreams. Felicie struggles to find her place in the dance school but with the help of a mentor, Odette, she makes progress. The animation is stunning and captures the elegance and grace of ballet. The cast includes Elle Fanning, Maddie Ziegler, and Carly Rae Jepsen who lends her voice to the soundtrack. The music takes the movie to another level, making it a joy to watch.
Appendage
Release Date: 2 October 2023
Streaming: Hulu
Star Cast: Emily Hampshire, Hadley Robinson, and Deborah Rennard
Looking for something thrilling and spine-chilling? Then, an Appendage might be just what you need! Directed by André Øvredal and written by Ian Goldberg, Andrew Chambliss, and Øvredal, this horror-thriller film has plenty of scares and twists to make your heart race.
The Plot Synopsis follows a young girl who discovers something grotesque and horrifying under the rotten floorboards of her house. Along with her sister and friends, she embarks on a journey to uncover the truth and fight for survival.
As for the themes, Appendage dives into issues of family, friendship, trust, and survival. The characters' inner and outer struggles are well presented, making it easy to connect with them. This movie is a must-watch for anyone looking for an adrenaline rush and a good scare.
So there you have it, a comprehensive guide to the latest series and movies streaming now. From Hulu's historical drama, The Mill to the horror series, Chucky Season 3, and Lupin Part 3's thrilling heists, there's something for everyone. And if you're in the mood for a children's movie, don't miss Monster High 2 and Ballerina. Happy streaming!
ALSO READ: Rami Malek and Emma Corrin Confirm Romance Holding Hands at Paris Party