If you are a dog parent, we know how inventive you need to be when it comes to their food. Also, when it comes to their hygiene, it's so important to find the right products that suit them. But there are online shops we have found that can give you access to the best food, accessories, and other important products for your lovelies.
Dear Pet is a store that has a wide variety of food and accessory products for dogs. You can buy from trustable brands such as Himalaya, TropiClean, Biogroom. Dear Pet has a section where you can buy face masks, mufflers, and hairbands matching your dog's bow ties.
Food products that you can buy from the Dear Pet store include dry dog food for different breeds, smoked salmon, and dry puppy food for adult dogs. If you want to buy some birthday bandana that has interesting illustrations such as "Petflix and chill", "Spoiled Brat", "Talk to my Paw", "Sassy since Birth", shirts, unicorn dog bow tie, socks, jackets, etc then shopping for your baby dog at Dear Pet is a good choice. The store has a wide range of grooming products for your dog such as Himalaya conditioners, slicker brushes, perfume spray, massage rubber band, shampoo, and powder.
They also sell dog collars, harnesses, and leashes, toys such as rubber bone and squeeze balls, and furniture such as beds for your pet dog. Check their page to know more about the products they sell and accordingly make your choice.
IAMS is a food product brand that provides personalized food products for your dog. IAMS offers a wide range of food items for your dog, starting from bones to meat.
IAMS is an online store that has a very special approach towards dog food products where they ask the age and breed size of your dog and then accordingly provide you with food suggestions. They also offer free samples for your dog that can help you understand whether or not your dog likes the food products by AIMS and it helps you decide exactly what you want to buy for your baby dog.
ALSO READ: What Gifts to Own If You are a Dog Lover
Just Dogs is a store that offers you dog food and treats products, accessories, grooming products, health and supplements, toys, and some deals of the day all that you can choose for your dog from a range of brands.
The food product categories and supplies include bone chicken, snackers chicken chip, cheese, sausage dog treat, pedigree meat and rice, and other similar products. Just Dogs also sells some playful toys for your pet such as teddies, speaking toys, dog brick games, turf balls, mint balls, giant balls, etc that can help you in keeping your pet exercised while they are playing and having fun. Other parts of physical health also include the intake of essential nutrition, at Dear Pet, you can buy supplements such as calcium tablets, vitamins, salmon oil syrup, etc making sure you feed your dog essential nutrients for his/her health.
They also sell accessories such as harnesses, collars, core strength bones, dental sticks, flyer dog toys, etc for your dog. Some of the cleaning products at Dear Pet comprise disposable dog diapers, dog stains, and odor removers, odor neutralizers, etc to keep your dog his/her surroundings hygienic. For the comfort of your dog, the store also sells crates and beds.
What is different about Just Dogs?
Just Dog has free shipping, a special 'Customer Service' that allows you to contact them for any queries. It also has a blog column where you will find information about dogs. The blog topics range from training dogs, taking care of dogs, how to travel with your dog, and the life of a stray dog, etc.
The store offers some very interesting yet intriguing products for your dog. They have various food flavors, a whole list of treats, accessories, cleaning, and other wholesome dog products. Along with these, they have a pet clinic and they also furnish dog training services.
The food products range from Power chew chicken, fed lamb, to chicken and vegetables in gravy. These foods are available for dogs, puppies, and adult dogs. The store offers some interesting treats that comprise sniffer beers, chicken bacon BBQ flavors, chip chops, biscuits, calcium bones, chicken chips, diced chicken, blueberry chicken, cheese jerky, etc. Pad holder, training pads, waste bags, a house training aid for puppies, extreme stain and odor remover, dirt pickup bag, and waste scoop kit are some of the many cleaning products at Pawshbox.
With this, they sell beds, mats, feeding bowls in different shapes and sizes, pet food calculators, and drinking fountains. You also have the option to choose from different brands and read some intriguing blogs on topics such as 7 things your dog needs in winter, diet for your senior dog, 6 ways to celebrate paw-some Diwali with your pet, controlling obesity in pets, pet fashion and you, and many more. The store also offers free shipping from orders above Rs. 500.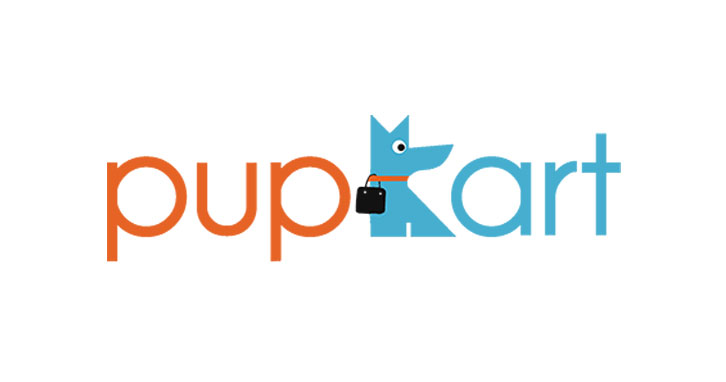 Pupkart has a wide range of cleaning products, toys, clothing, and many more products at the lowest price possible. The store offers some T-shirts and coats with colorful and attractive prints that say 'Beware' and etc.
Pupkart offers various food products such as snack chicken sandwiches, chicken chips, gravy foods, etc that you can feed your pet daily. Zip mattress, home den blues, waterproof relax zip mattresses, small bed rounds, etc are different types of dog beds that Pupkart sells. They have an interesting list of toys for dogs that include multicolor balls with bell medium, flavored spike dental play rings for healthy gums, flavored rubber chews, super flyers soft catch, and rope toys. A range of shampoos includes anti-itch shampoo, cleansing dogs, coat cleanser with conditioners, Oatmeal shampoos for maintaining good hygiene for your dog.
You can now feed food to your dog in bowls that are sold in different shapes and sizes also with twin dog bowls for one or more of your pets. Pupkart has some cool collars, choke chains, small harnesses, collar belly fancy, chain leash puppy, etc for your dog.